Our Philosophy
Parkview Nursing Centre prides itself on providing quality customer service to our residents, their families and friends and the community. Leaving a family home, deciding it may be time to move into a long-term care facility and deciding which long-term care facility to move into are difficult decisions for residents and their families. Our experience tells us that residents and their families are looking for a home-like setting where residents can receive the care and services they need with dignity, respect and a high quality of life.  Our service oriented team of Nursing, Dietary,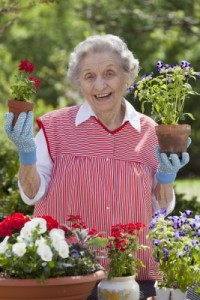 Recreation, Leisure, Life Enrichment and Environmental Services professionals and services reflect our strong focus of care and support abiding by our Mission that, at Parkview, "Caring Makes a Difference".  Parkview Nursing Centre offers all the comforts of home. Our friendly, caring staff assist in meeting the needs and interests of our residents.  In fact, it's our belief that each resident is a special individual with their own unique life experiences and, given the opportunity to express their preferences and choices, each person can enjoy a meaningful life in a warm and nurturing environment.
Parkview Nursing Centre is an integral part of the community. On a daily basis family and friends are visiting their loved ones. Dogs from the St. John's Ambulance and SPCA trot through the hallways with wagging tails looking for a friendly pat on the head. Local library staff visits with armloads of books. The Royal Botanical Gardens visit to talk about gardening.  Religious representatives from local churches and temples visit on a regular basis.  Musicians arrive with instruments in hand to serenade residents.  The list goes on and on.  Parkview Nursing Centre also works closely with health care organizations such as the Hamilton-Wentworth Community Care Access Centre (CCAC), the City of Hamilton, McMaster University, the Hamilton Health Sciences Centre, St. Joseph's Hospital and others.